EPFO ALERT! Now, avail non-refundable advance in case of unemployment
EPFO ALERT! Now, avail non-refundable advance in case of unemployment
The Employee Provident Fund Organisation (EPFO) has now allowed its members to avail Non-Refundable Advance in case of unemployment.
EPFO through its official Twitter handle said, "EPF Members can now avail Non-Refundable Advance in case of Unemployment."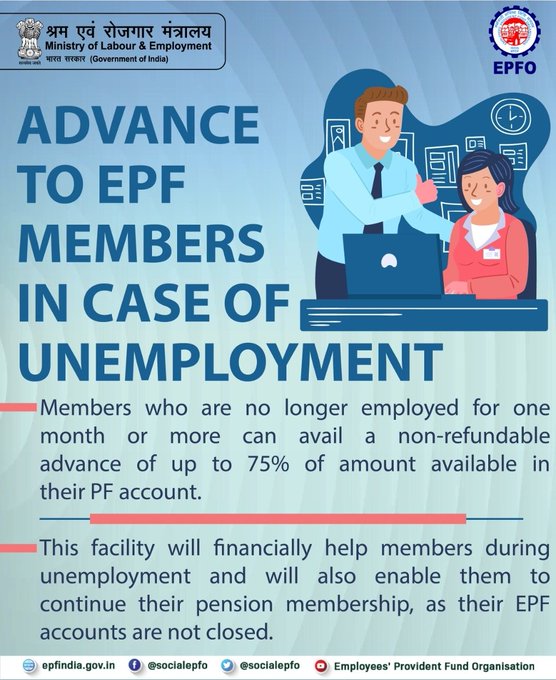 It explained further, "Members who are no longer employed for one month or more can avail a non-refundable advance of up to 75 per cent of the amount available in their Provident Fund (PF) account."
"This facility will financially help members during unemployment and will also enable them to continue their pension membership, as their EPF accounts are not closed," the EPFO flyer said attached with a Twitter post on its handle.
The government has been doing everything possible along with the EPFO to ensure people get their funds from PF accounts amid covid crisis. In this regard, the organisation, earlier in May, had allowed its members to avail second non-refundable COVID-19 advance, Labour Ministry said in statement.
Earlier, the non-refundable withdrawal to the extent of the basic wages and dearness allowances was for three months or up to 75 per cent of the amount standing to member's credit in the EPF account, whichever is less, would be provided, Labour ministry had said in a statement on May 31, 2021.
The COVID-19 advance has been a great help to the EPF members during the pandemic, especially for those having monthly wages of less than Rs. 15,000, it further said.
Source:-zeebiz
Share: