How to Save a Backup of Your Emails in Gmail
How to Save a Backup of Your Emails in Gmail
While Gmail may be by far the most popular email client, there are quite a few alternatives like Outlook and Mailbird that can give Google's offering strong competition both in terms of smart email management and flexibility. So, if you have decided to finally switch your loyalty to other email clients, you may want to save a backup of your entire Gmail for reference. Even if you don't want to look beyond Google's email client, having a backup of all of your Gmail account could be helpful from a security perspective.
How to Export a Backup of Entire Gmail
Thanks to the introduction of a handy tool called Takeout, backing up Gmail has become a bit straightforward. Moreover, you also have the flexibility to choose specific data, file type, and even preferred delivery method that includes email and cloud services such as Google Drive, Dropbox, OneDrive, and Box. Surprisingly, Apple iCloud is not included in the list of cloud services.
However, there are a couple of caveats that make the process of exporting Gmail account seem a tedious affair. First and foremost, Google doesn't specify a time frame when the archived files will be sent. And second, if the total file size is larger than 2GB, Google splits the exports into multiple files. With all that said, let's get started with steps!
1. Open a web browser on your computer and head over to myaccount.google.com. After that, make sure to sign in to your Google Account. Then, scroll down to the Account Storage section to check how much storage is left on your Google Account.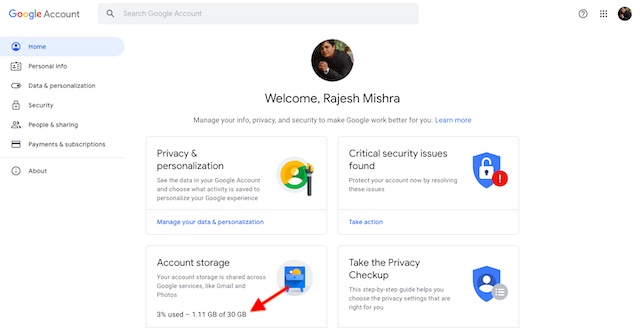 2. Now, click on Manage your data & personalisation option located under Privacy & personalisation.

3. Next, scroll down and click on Download your data. (After that, you may get two options: Export or Delete data. Choose Export).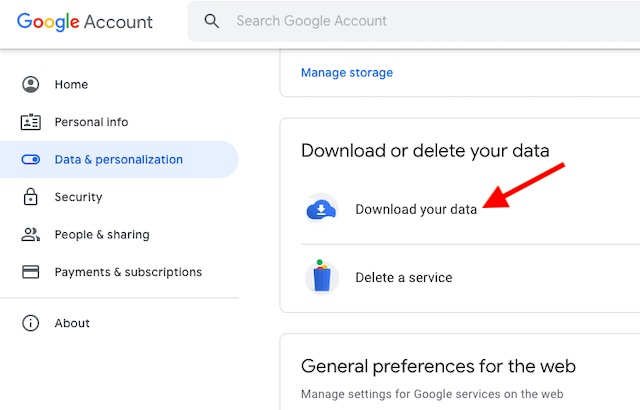 4. Next up, Google Takeout page will appear. On this page, you should see a long list of Google Services from which you can download the preferred data. By default, all the options have been selected. Since we want to back up only emails, click on Deselect All…Read more>>
Source:-beebom
Share: