Is your Rs 500 note fake? Know which is the real banknote or else you will be trapped
Is your Rs 500 note fake? Know which is the real banknote or else you will be trapped
Post demonetisation, there has been massive enhancement in India's currency chest. The Reserve Bank of India (RBI) has either introduced new notes or have given a complete makeover to the existing ones. The agenda of demonetisation for eliminating Rs 500 and Rs 1000 notes was to tackle black money and prevent finance terrorism. Among these two issues also comes as counterfeit notes in other words fake currency. By banning old Rs 500 and Rs 1000, the government also gave India new Rs 500 and Rs 2000 in high denomination category. Guess what! An RBI data reveals that there has been massive detection of fake currency in these two new notes. Talking about new Rs 500 notes, the RBI annual report for FY18 highlights that, in the Mahatma Gandhi (New) Series of banknotes in the denominations of Rs 500 counterfeit notes detected during the fiscal were 9,892 as against 199 in the previous fiscal. Hence, there is rise in Rs 500 fake notes.
Carrying a fake currency notes comes as a cause of concern for a citizen. What generally happens is when someone recognises a fake currency two things takes place, either that someone follows the guidelines of RBI and reports about the fake currency for further actions or they just plan to get rid of it by passing to other people.
The second situation becomes a major issue. It needs to be noted that, fake currency note impacts more than having a loss of couple hundreds or thousands. Many evidence has been revealed in past where criminal groups have used fake currency to generate profits. Such profits can be used for a sample of works like money laundering, smuggling and production of illegal documents.
The new Rs 500 notes in the Mahatma Gandhi (New) Series are different from the present series in colour, size, theme, location of security features and design elements. The size of the new note is 66mm x 150mm. The colour of the notes is stone grey and the predominant new theme is Indian heritage site – Red Fort.
Here's how you can understand the Rs 500 note you are carrying is note fake.
Obverse (Front)
1 – See through register in denominational numeral.
2 – Latent image of the denominational numeral.
3 – Denominational numeral in Devnagari.
4 – Orientation and relative position of Mahatma Gandhi portrait changed.
5 – Windowed security thread changes colour from green to blue when note is tilted.
6 – Guarantee clause, governor's signature with promise clause and RBI emblem shifted towards right.
7 – Portrait and electrotype watermark.
8 – Number panel with numerals growing from small to big on the top left side and bottom right side.
9 – Denomination in numerals with rupee symbol in colour changing ink (green to blue) on bottom right.
10 Ashoka pillar emblem on the right.
For visually impaired:
Intaglio or raised printing of Mahatma Gandhi portrait, Ashoka pillar emblem, bleed lines and identification mark continue.
11 – Circle with Rs 500 in raised print on the right.
12 – 5 bleed lines on left and right in raised print.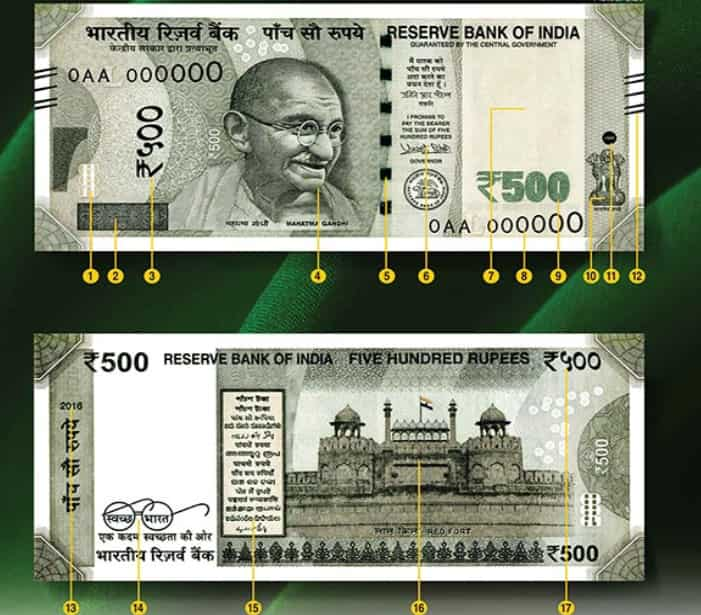 Reverse (back)
1 – Year of printing of the note on left.
2 – Swachh Bharat logo with slogan.
3 – Language panel towards centre.
4 – Red Fort an image of Indian heritage site with Indian flag.
5 – Denominational numeral in Devnagri on right.
If someone gives you fake note:
This situation is difficult to tackle, because then banks will not take any responsibility for the fake currency you have received. The next step and logical you can take is by reporting about it to the nearest police station or magistrate office on finding a fake note.
It needs to be note avoid circulating the fake currency you have received, because knowingly circulation of counterfeit notes is a punishable offense under the law.
Hence, its best to take the above actions first then later pay for carrying a fake note.
Source:- zeebiz
Share: