ITR e-verification: Do this to e-verify your Income Tax return using Aadhaar card
ITR e-verification: Do this to e-verify your Income Tax return using Aadhaar card
Aadhaar card is a very useful document and can be used for almost everywhere as photo identity or getting your KYC done. But do you know that you can also e-verify your ITR using Aadhaar card? Yes, it can be done, provided your Aadhaar is linked with PAN and your mobile number must be registered with Aadhaar.
Earlier, one had to download the ITR-Verification (ITR-V) from the e-filing portal once the return is filed, and send a signed copy of it to Centralised Processing Centre (CPC), Bengaluru, to confirm your Income Tax Return. But now it can be verified through Aadhaar.
Besides Aadhaar Card, use of electronic verification code (EVC) and NetBanking to verify your Income Tax return online is allowed too.
 "If your Aadhaar is linked with PAN, you can e-verify your ITR using Aadhaar. Please note that your mobile number must be registered in Aadhaar to avail of this service," tweeted UIDAI from its official handle.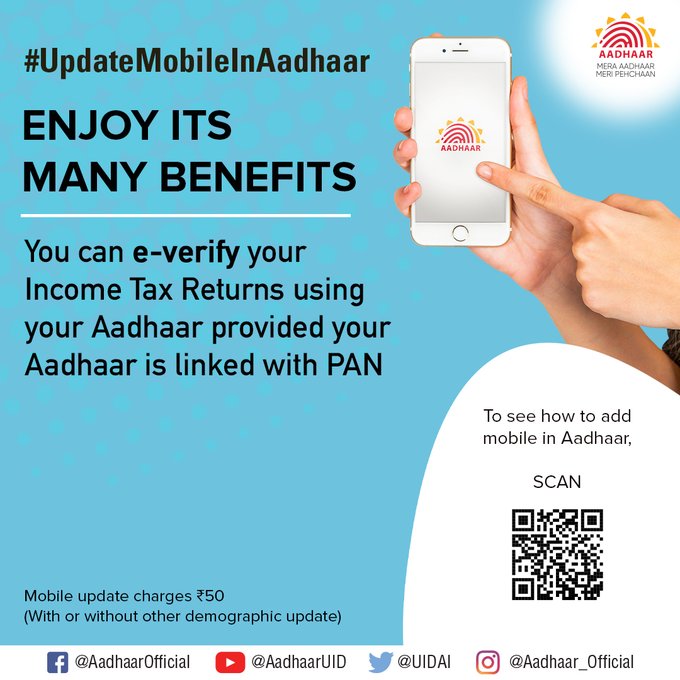 How to e-verify  ITR using Aadhaar Card?
As tweeted by UIDAI, In order to verify your ITR with Aadhaar Card, you first need to link your Aadhaar with PAN. Once your Aadhaar and PAN are linked, ITR can be verified through the mobile number registered on your Aadhar. It is to be noted that Aadhar and PAN will be linked only if the name, date of birth and Gender on both the cards are same. Any distinction in the information shared on these documents will not let the two cards link. Also, make sure that you link Aadhaar with PAN only if you are still using the mobile number that you registered with the Aadhaar.
Source:-zeebiz
Share: