Lost your Aadhaar card? Here's how you can request for Aadhaar Reprint Online
Lost your Aadhaar card? Here's how you can request for Aadhaar Reprint Online
New Delhi: The Unique Identification Authority of India (UIDAI) on its self-service portal offers a variety of offers to its customers. Among its many services, it provides a paid Aadhaar reprint service. It enables the Aadhaar holders to apply for the issuance and delivery of a physical copy of Aadhaar on their registered address.
It was launched last year in December on Pilot basis. According to the UIDAI's website, "It facilitates the residents of India to get their Aadhaar letter reprint by paying nominal charges, in case, Aadhaar letter of the resident has been lost, misplaced or if they want a new copy."
"Those who do not have their mobile number registered can also "Order Aadhaar Reprint" using Non-Registered or Alternate Mobile Number," it added.
The charges to be paid for 'Order Aadhaar Reprint' is Rs 50 inclusive of goods and services tax (GST) and speed post charges.
How to request for order Aadhaar Reprint-
The order Aadhaar Reprint request can be raised by visiting the UIDAI's official website or resident portal using the 12 digit Aadhaar Number (UID) or 16 digits virtual identification number (VID).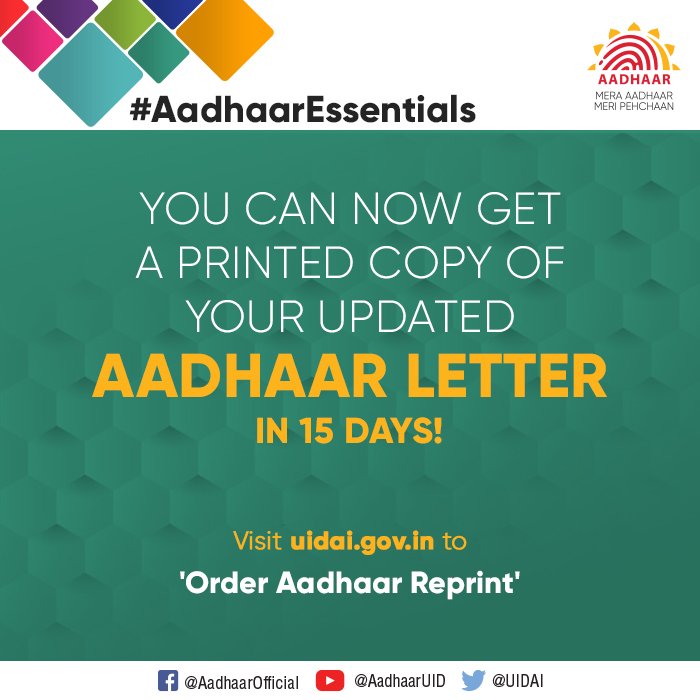 In order to utilize this facility, users are required to log in on the UIDAI portal through their registered mobile number. A one-time password (OTP) will be sent to the user to verify the identity of the applicant.
After receiving a request for order Aadhaar Reprint from the resident, UIDAI will handover printed Aadhaar Letter to DoP within five working days (excluding the date of request). Aadhaar Letter will be delivered using speed post service of Department of Post (DoP) in line with DoP delivery norms. The delivery status can be tracked using DoP Status Track Services.
How to lock Aadhaar biometric authentication-
1. Visit the UIDAI website- uidai.gov.in. From the homepage, select 'Lock/Unlock biometrics' from 'My Aadhar' tab.
2. Enter your Aadhaar UID/VID along with security code and click 'Send OTP'.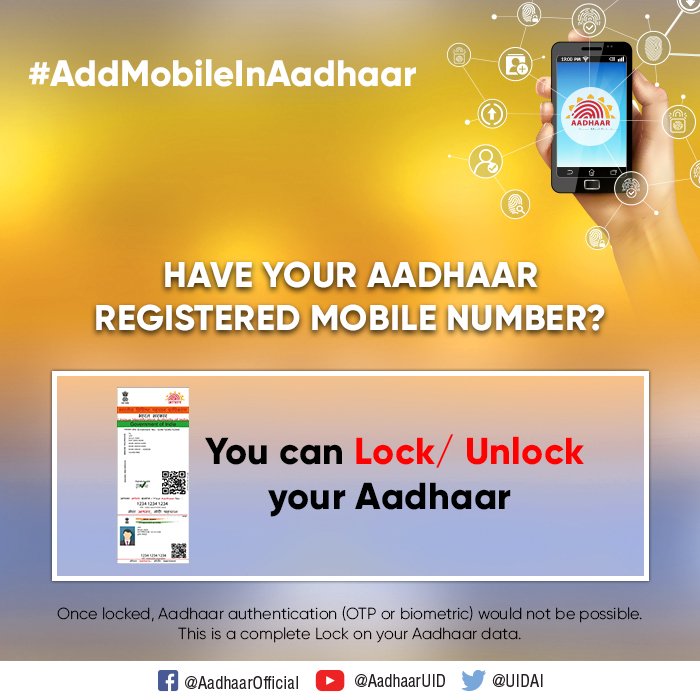 3. This OTP will be sent to your registered mobile number. Enter OTP and click 'Submit'.
4. Fill in the required details and click on 'Enable' to activate the biometric lock.
Source:- timesnownews
Share: