Now, livestream games directly from your phone on YouTube
Now, livestream games directly from your phone on YouTube
Over the years, a number of content creators, including Markiplier and LazarBeam, have established themselves as the so-called "game influencers".
They live stream gameplays, giving the audience a chance to see popular titles in action as well as the way to play it.
Now, in a major move, YouTube is bringing the ability to do the same directly from smartphones.
Here's how.
YouTube Gaming app allowed live streaming
Amazon's Twitch has long dominated as an ideal platform to stream games.
However, in 2015, the YouTube Gaming debuted as a competitor for the service, giving Android/iOS and web users another reliable way to stream gameplays.
The platform worked well, but a few months ago, YouTube Gaming was merged with the main YouTube app to "build a stronger home for the gaming community."
Merger took away gaming streaming capability, among other things
The move of merging YouTube Gaming with the main YouTube app took away some critical features of the former, including the ability to stream phone screens directly.
Now, XDA Developers report that the capability is being rolled out with the latest version of YouTube app.
The feature is only there for Android users yet, but we expect iOS users to get the same too.
How game streaming would work on YouTube app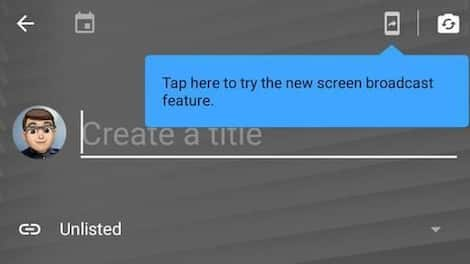 As you select the live stream option on the YouTube app, a prompt will highlight an option called 'screen broadcast'.
Tapping on the option will change the interface to a game-specific stream.
It will first prompt you to add the title of the game and select orientation and then take you back to the home screen to open the game and start streaming.
Top overlay for stream control
Notably, as you configure and start the livestream, an overlay will appear on the top of the screen with several control options, including a button to go live, check settings or mute mic. It will even display the view of your phone's front camera.
Source:- newsbytesapp
Share: