SBI account holders cancel Flipkart orders, get double refund
SBI account holders cancel Flipkart orders, get double refund
How about getting paid double the amount when you cancelled an online purchase when you were actually worried about your money?
Thirty nine account holders of State Bank of India (SBI) spread across Gujarat's Mehsana, Patan and Ahmedabad districts were pleasantly surprised when the bank paid them double the cancelled amount when they cancelled their online transactions with Flipkart, an online selling platform. Apparently, costumers received one credit on the day of cancellation from Flipkart and another credit after 2-3 days in their accounts from the bank.
When some customers realised that they had received double credits, they happily went ahead and made several online purchases from Flipkart and later cancelled their orders. Most of them were students who also informed their relatives and friends to follow the same modus operandi to get double credit from banks after online cancellations. The purchase and transaction took place last year when the bank lost more than Rs 7 crore from 1,090 transactions in 39 accounts.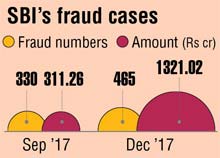 Earlier, after online purchase cancellation, buyers used to get their refund from the merchants, manually after the receipt of funds and advice from payment masters like MasterCard, Visa or Rupay. Later, Visa came out with an online refund project, and the amount was being directly credited to customers' accounts. On a pilot basis, the plan was implemented in five BINs (bank identification number). BIN is a four-digit number that uniquely identifies the institution issuing the card. The manual refund process was stopped, and the automatic refund project was extended to all BINs.
Due to overlap of the old and new systems, after transaction cancellation, the account holders got their refunds through both the ways— online refunds directly in their accounts as well as manual refunds through old process. SBI treated it as a fraud case.
The bank's preliminary investigation revealed that "customers' received double credit from ATM switch centre when they cancelled online transaction". SBI is investigating how the amounts were credited twice.
Banks have automated branch system suspense account which is self-balancing like when one originating debit entry gets reversed with one responding entry. Senior bank officials told DNA Money on the condition of anonymity, "Ideally, this system is monitored on a daily basis by the technical department of banks."
According to SBI's fraud report, seen by DNA Money, during the December 2017 quarter, fraud cases of SBI have jumped 40% over September 2017. In the same period, the amount involved in these fraud cases surged more than 324%.
Both SBI and Flipkart did not respond to DNA Money's questionnaire to e-mail and text messages.
SUDDEN WINDFALL
SBI paid 39 account holders double the amount when they cancelled their online transactions with Flipkart
Costumers received one credit from Flipkart and another credit in their accounts from the bank on cancellation
Source:- dnaindia
Share: