2. Contribution: Atal pension scheme contributions can vary from Rs. 42 to Rs. 210 per month, depending on the age of entry and the pension slab chosen by the investor. Atal Pension Yojana comes with an auto withdrawal facility, in which the contribution amount is debited automatically from the subscriber's account. Subscribers can also choose from three modes of contribution: monthly, quarterly and half-yearly.
3. Minimum tenure: The minimum period of contribution under Atal Pension Yojana is 20 years. For example, if a subscriber enters the scheme at the maximum allowed age of 40 years, he or she will start receiving the pension at the age of 60 years. Pension under Atal Pension Yojana (APY) starts at the age of 60 years.
4. Pension amount: Minimum pension amounts offered under APY (Atal Pension Yojana) are fixed at Rs. 1,000, Rs. 2,000, Rs. 3,000, Rs. 4,000 and Rs. 5,000 per month. The subscriber gets to choose the minimum pension amount at the time of subscription. (Also read: Why you must deposit money in PPF account by 5th of every month)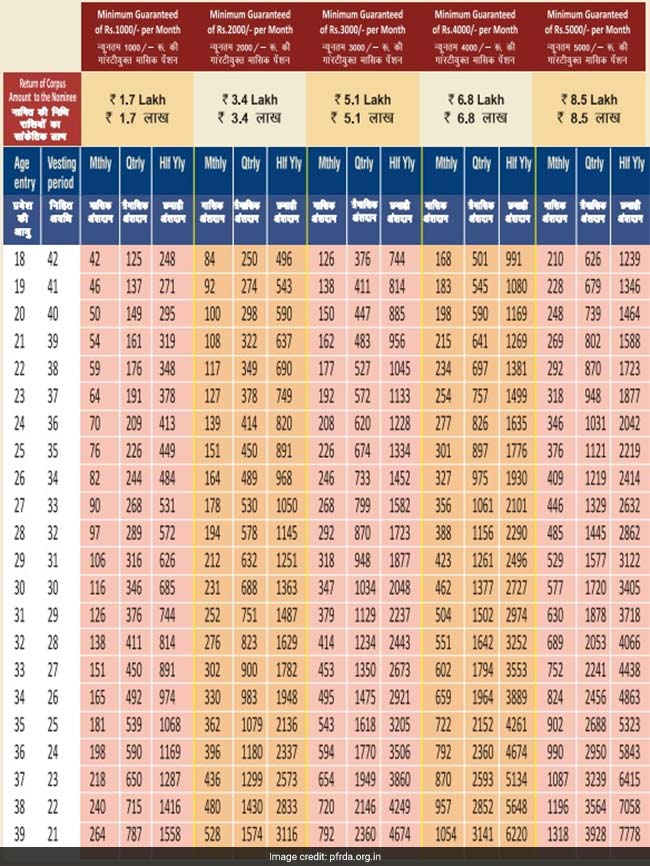 5. Income tax benefit: Contributions under the pension scheme enjoy the same tax benefits as the NPS (National Pension System). Contributions can be claimed under Section 80CCD (1B) of the Income Tax Act. The current limit for income tax deduction Section 80CCD (1B) is Rs. 50,000. This is over and above the Rs. 1.5 lakh limit allowed under Section 80C.
Meanwhile, pension regulator PFRDA (Pension Fund Regulatory and Development Authority) has invited expressions of interest (EOI) from reputed actuaries to estimate any shortfalls in the pension scheme, according to the press release. Atal Pension Yojana is administered by PFRDA and implemented through all the banks nationwide.
Source:- ndtv