'UIDAI's social media body not for snooping'
'UIDAI's social media body not for snooping'
NEW DELHI: The UIDAI proposal for a Social Media Agency (SMA) is not for surveillance or profiling but to track a limited sample of one lakh mentions a month on social media platforms to tackle public grievances and devise policy responses, the authority plans to tell the SC.
A petition alleging that the proposed SMA will be a "listening tool" for snooping is being heard by the SC and the court has expressed concern of this being at cross purposes to assurances offered by the UIDAI that Aadhaar does not violate privacy and will not profile users.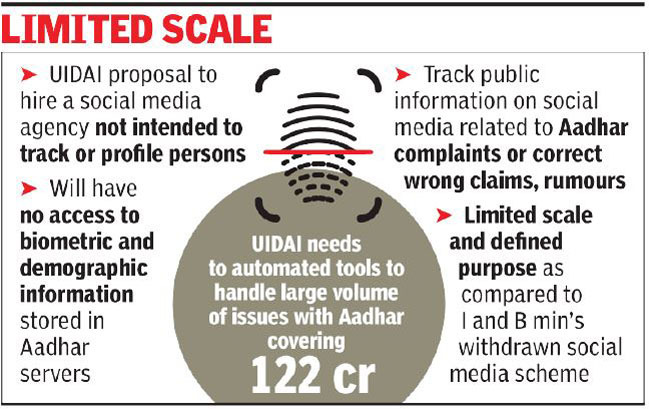 The limited sampling across media platforms like Facebook, Twitter, Google Plus and blogs will be a small number considering the volume of such conversations runs into millions and the aim is to classify grievances like denial of service and counter incorrect information, official sources said.
Besides accessing information already available in public and adhering to the Centre's guidelines for social media use by government organisations, the UIDAI proposal is very different from the one that was withdrawn by the information and broadcasting ministry in the face of SC scrutiny.
Sources said the UIDAI proposal did not have any clauses referring to "predictive analytics" dealing with "predicting and neutralising" the media "blitzkrieg of India's adversaries" or an extensive report generation mechanism that covered the entire digital space. There was no intent to use tools to crawl the worldwide web and social media to monitor and analyse trends relating to political subjects.
The scale of the scrapped I&B ministry social media project was immense, including tools to trend a topic, monitor email conversations and scans in Chinese, German, French and Arabic apart from Indian languages.
The UIDAI has no plans to spatially map "buzz" about Aadhaar, engage brand ambassadors or, most importantly, create 360 degree profiles by "customer relationship management" systems. The UIDAI's SMA proposal, coming soon after the controversial I&B project, has led to closer questioning and put the onus on the authority to explain that the exercise will monitor what is being said about Aadhaar and linked services rather than who is doing the talking, sources said. "Only in cases where someone has a specific grievance will the person be contacted and helped," they said.
The UIDAI has argued that information put out on social media is meant to be accessed by anyone on a relevant platform and banks, NGOs, individuals and political parties are using various commercially available standard tools to gauge public perceptions. The SMA envisaged by UIDAI will not "peek into private conversations such as protected or private tweets".
Sources pointed out that apprehensions over UIDAI using the SMA to "neutralise detractors" needed to be understood as influencers on social media tend to have a large number of followers and being able to respond to publicly available conversations will help Aadhaar tackle genuine problems or correct misconceptions. If Aadhaar is criticised for denial of service, proactive measures should be welcomed, sources said.
Source:- indiatimes
Share: