WhatsApp's deleted messages can still be read
WhatsApp's deleted messages can still be read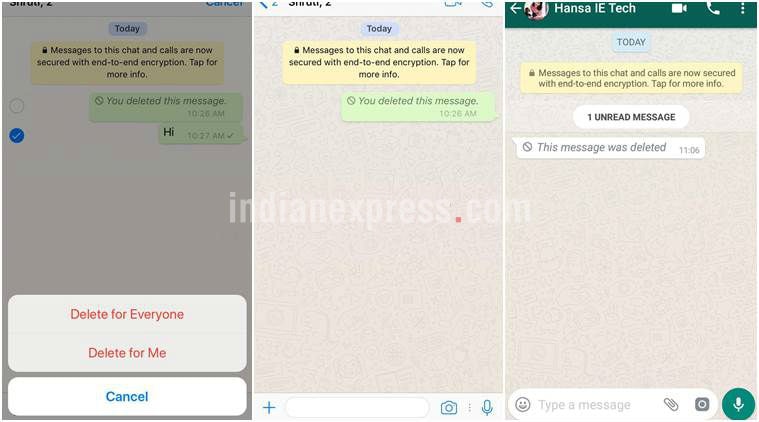 If you believed that WhatsApp text message that you recalled after accidentally sending it to the recipient can't be viewed, then think again.
WhatsApp 'Delete for Everyone' feature was rolled out a few days back. It lets users delete or recall sent messages within seven minutes of sending them. Now Spanish Android blog Android Jefe has discovered a way around this feature, and claims that deleted messages on the device can still be accessed by the recipient.
According to the report, users running Android 7.0 Nougat or higher version can simply download a third-party app called Notification History to read deleted messages. It is important to note that it only works for deleted text messages, and not photos, videos or any other media. After downloading the Notification History app from Google Play Store, users should be able to see message that has been deleted in the Android Notification log.
"What we found is that the messages are stored in the notification register of the Android system. So, it's just a matter of entering that record to see the messages that the other person deleted. The Notification History application is a shortcut to that record," the post reads.
The process is even easier for people using third-party launchers like Nova Launcher. In this case, there's no need to download a third-party app to access deleted messages. Just long press the home screen, and then click of Widgets. Next, tap on Activities and then Notifications log to view notification log of the system. For people running stock version of stock Android, a Settings widget will give them access to notification log.
WhatsApp adds new 'Delete for Everyone' feature;here's how to use
Remember, there are certain limitations to viewing deleted messages. Apart from the fact that only text message can be viewed, the blog post clarifies that just the first 100 characters of message will be visible to users. Also, only messages for which a user has received notification can be seen. Further, the messages are apparently stored for a few hours on the device and are deleted if users restart their device. Finally, doesn't look like it works for devices running Android versions older than Android 7.0 Nougat.
So if you believed that text message that you recalled after accidentally sending it to the recipient can't be viewed, then think again. However, you're safe if you accidentally sent a photo or video to someone you shouldn't have, and deleted it afterwards. WhatsApp 'Delete for Everyone' was one of the highly anticipated features, simply because it gives users a chance to correct their mistake. It was made available globally earlier this month.
Source by:-indianexpress
Share: