ZERO processing fees on home loan balance transfer to State Bank of India before Feb 28, 2019; check rates
ZERO processing fees on home loan balance transfer to State Bank of India before Feb 28, 2019; check rates
New Delhi: State Bank of India (SBI), country's largest bank by asset size and customer base, has been offering the facility of home loan balance transfer at zero processing fees. According to SBI, the home loan balance can be transferred to State Bank of India from Scheduled Commercial Banks (SCBs), Private and Foreign Banks, Housing Finance Companies (HFCs) registered with National Housing Bank (NHB). The home loan borrower should have the valid documents evidencing the title to the house/flat.
Also, the home loan balance transfer facility to State Bank of India can be done from borrower's employers if they are Central/State government or their undertakings or Public Sector Undertaking. Borrowers falling under these categories can transfer the home loan balance to SBI if they satisfy the eligibility criteria for availing home loan as per the bank's instruction and has serviced interest and/or instalment of the existing loan regularly, as per the original terms of sanction, SBI said.
"Switch to a loan that brings joy! Transfer your Home Loan to SBI at ZERO processing fees. Offer valid till 28th February, 2019," SBI said in a tweet.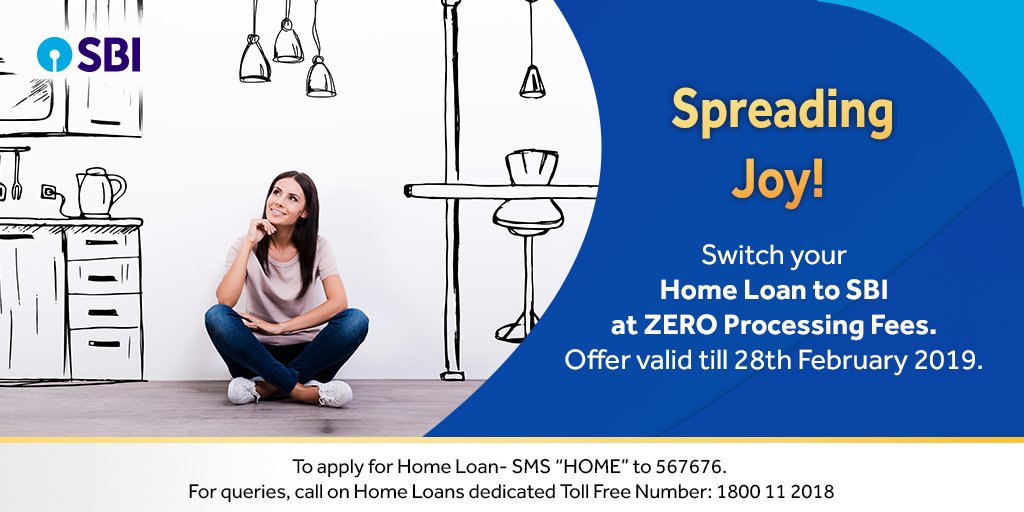 All the resident Indians between the age of 18 years and 70 years are eligible for the home loan balance transfer to State Bank of India provided the loan tenure should be extended. Under the facility of the home loan balance transfer to SBI, the bank is offering low interest rates, no prepayment penalty, interest concession for women borrowers, home loan available as overdraft and the interest rates will be charged on daily reducing balance.
SBI home loan balance transfer rates 2019

SBI charges pre-sanction and post-sanction fees such as advocate's fee for property search and title investigation report, valuer's fee for valuation report and stamp duty payable for loan agreement & mortgage, property insurance premium, CERSAI registration fee of Rs 50 + GST up to Rs 5 Lakh limit, and Rs 100 + GST for limits above Rs 5 Lakh.
Source:- timesnownews
Share: